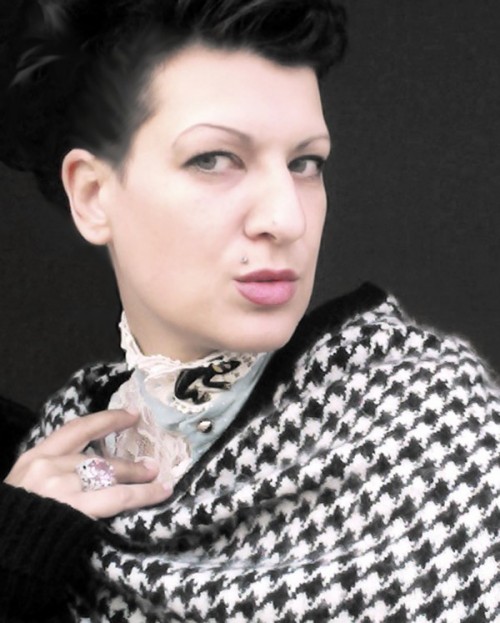 TAMARA MOYZES
Born in 1975, Bratislava, Slovak Republic. Lives and works in Prague, Czech Republic Education: 2000-05 MA studies, Academy of Fine Arts, Department of New Media, Prague, Czech Republic, 2003-04 Exchange program, The Bezazel Academy of Fine Art and Design, Department of Video and documentary films, Jerusalem, Israel, 1999 The Bezazel Academy of Fine Art and Design, Department of Art, Jerusalem, Israel, 1997-98 Academy of Fine Arts and Design, Department of Painting, Bratislava, Slovak Republic, 1996-97 Avni Institute of Fine Arts, Tel Aviv, Israel.
Tamara Moyzes' last projects (Artivism) are related to activism and happenings. Moyzes present her strategies concerning her actions in public space and her reaction to actual and social issues, related to the use of media as a tool for political art.
Tamara Moyzes is political engaged and international artist. She produces video art, which is often presented in installation form. She is a political personality and is concerned with themes such as gender, racism, antiziganism, the Israeli-Palestinian conflict, and – as a curator – with Orientalism as well. Her works show a commitment to artistic activism, and she believes that art is a form of pointed protest that should unmask social conditions – not through academic statements, but instead through direct artistic interventions. With the resources of satire and the intensification of lived experience, Moyzes sheds light on social injustice. By virtue of her origins and her life at various locations, Tamara Moyzes works from the perspective of the intersection of minorities, for example of the Jews or of the Roma. In this way, she underscores the urgency of the material she presents to her audience, much of it difficult to absorb.
MoMA – The Museum of Modern Art in New York publishes a book entitled "Art and Theory of Post-1989 Central and Eastern Europe: A Critical Anthology", which includes the work of Tamary Moyzes "Museum of Ethnology III, 2015".
Selected exhibitions:
2019 / My media profile, Gallery Cella, Opava, CZ (solo), "Neighborhood Boogie Woogie" Festival, Hunt Kastner Gallery, Prague, CZ (group), "(Re)Conceptualizing Roma Resistance ", ERIAC, Berlin. DE (group) / 2018 The universe is black / O kosmos Hino Kalo, Governor's Palace, Brno, CZ (group), Romane kale Panthera, EMERGENCY kit against fever from "Okamura", Czech Parlament, Prague, CZ (solo) / 2017 Ministry of Education Warning: Segregation Seriously Harms You and the People around You! Vol.2, GAVU, Prague, CZ (group), Exhibition of the Launching Event: Transcending the Past, Shaping the Future, German Ministry of Foreign Affairs -library, Berlin, DE (group), Exhibition KALI BERGA, Księgarnia Wystawa, Krakow – Fundacja Sztuki, PL (group), Stratégia taktiky, Galéria KORTIL, Rijeka, HR (group) / 2016 HateFree?, DOX Centre for Contemporary Art, Prague CZ (group), Sites of Repressed Remembrance, Gallery 8, Budapest (group), (Re)conceptualizing Roma Resistance, Goethe-Institut, Prag, CZ and Festspielhaus Hellerau, Drezden, DE (group), Spline Festival Kosice SK (group) 2015 Vot ken you mach? – Muzeum Współczesne Wrocław PL (group), Archive of Desires, Gallery8, Budapest, HU (group), Polish Bourekas, Mamuta Gallery, Hansen, Jerusalem, IL (solo) / 2014 Forbidden ART, Gallery 8, Budapest, HU (solo), "HAVE A LOOK INTO MY LIFE!", Aubette, Place Kléber, Strasbourg, Graz FR, AUT (group), ARTIVISM, Galerie Kai Dikhas Berlin, DE (solo), The Ludwig Museum Budapest "[silence] – A Holocaust Exhibition" (group) / 2013 Dictionary, Willy Brandt Center, Jerusalem IL (solo), Vot Ken You Mach?, Kunsthaus Dresden DE (group), Video.Art.Activism, Gallery Kai Dikhas, Berlin, DE (group), Artivism, The Brno House of Art, Brno CZ (solo), Women Commentators, Center for Contemporary Art Ujazdowski Castle in Warsaw, PL (group), Die Schweiz ist keine insel – In lästiger Gesellschaft, Shedhalle, Rote Fabrik, Zürich, CH (group) / 2012 Middle east Europe, DOX Centre for Contemporary Art, Prague CZ (group), Stimmen der Roma, Munich, Gasteig DE (group), Reclaiming Identity, Steirischer Herbst, Graz AU (group) / 2011 Mediations Biennale, Poznan PL (group), Czech Center in Stockholm, Welcome to Prague, Sweden (solo), "Protocol" Mamuta at the Daniela Passal Art & media cente, Jerusalem IL (solo), INTEGRA(C)E, Karlin Studios, Prague CZ (solo) / 2010 Transgression, gallery Videotage, Hong Kong, CN (group), Mute Signs, Barcsay Hall, Budapest, HU (group), SHE DEVILE 4, Studio Stefania Miscetti, Roma, IT (solo), Kick the Habit, Festival SOHO in Ottakring, Vienna, AT (group) / 2009 Formáty transformace 89-09, The Brno House of Arts, Brno, CZ (group), The other kind of blue, Czech selection, Gallery Václava Špály, Prague, CZ (group), Family happiness, Czech Ministry of Culture, Prague, CZ (group), Welcome to Prague, Output gallery, Prague, CZ (solo), Family Happiness, Czech Parlament, Prague, CZ (solo) / 2007 TV t_error, Entrance gallery, Prague, CZ (solo)